Oprah's Running For President
Okay, she's not and she probably won't because she's got zero time to correct the fuck-ups 45 men have left for her to inherit. Speaking of mistakes men make that women have to clean up, the theme of the Golden Globes this year was #TimesUp; it was in response to the ludicrous number of sexual assault and harassment reports, and inequality that we've put up with for decades. It's essentially saying that we're not making anymore time to listen to excuses for inappropriate behaviour; a strong statement dressed in black tie, of course.
There were many moments throughout the show that were worthy of 'Who Run the World? Girls!' playing in the background. Some of our favourites were:
1. When Natalie Portman called out the all-male nominees for the Best Director category
I suppose it was rather difficult to find successful films directed by women in 2017 to nominate. There were only productions like A United Kingdom, The Zookeeper's Wife, Lady Bird, I Think We're Alone Now, The Beguiled, Mudbound and Wonder Woman — which is considerably one of the most influential movies of 2017 and was even listed to be the highest-grossing live-action movie directed by a woman, to choose from. Why any of those titles didn't qualify will be a justification that only the Lasso of Truth can give us.
The lesson we learned here is this: It is important to call things out.
While the nominees for this category were deserving (The Shape of Water is brilliant!), completely sidelining titles that created a great impact in the industry as well as its overall contribution to pop culture was not cool. There is a dubious historical pattern with the Globes to only nominate one woman every few years. Hell, the last time a woman won in this category was in 1984. That was 34 years ago when we made room for sexism but as they said: time's up. 
It's not like we're asking for women to be nominated because of their gender — if that thought crossed your mind, you need to learn how to outgrow your ignorance before breeding — it's because women are putting in just as much (or more) work in the entertainment industry as men but aren't getting the recognition they deserve. It has to change.  
Browse through Netflix's section of Women Who Rule the Screen here to expand your watchlist.
2. Handmaid's Tale's wins and encouragement to be more than just gaps between stories
 
Handmaid's Tale took home 2 awards that night for Best Drama TV Series — fun fact: 8 of the 10 episodes were directed by women — and Elisabeth Moss won the Best Actress in a Drama TV Series award for her spectacular portrayal of the main character, June Osborne.
In Elisabeth's acceptance speech, she (sort of) quoted the writer of the show, Margaret Atwood, saying:
"We no longer live in the blank white spaces at the edge of print. We no longer live in the gaps between the stories. We are the story in print, and we are writing the story ourselves."
What we learned here is direct; when stories and opportunities aren't accessible to us, we have to create them ourselves.
If you'd like to induce yourself into an existential crisis of personal reflection, we'd strongly recommend reading Margaret Atwood's work; she has the ability to make you want to curl up into a ball and cry while also empowering you to do better.
3. Oprah's speech when she accepted the Golden Globes' Cecil B. DeMille Award for lifetime achievement
What a time it would be if we were able to live in the United States of Oprah. She'd be the president, the emperor, and the queen. She'd be Michael Jackson, and we'd all be Tito.
Oprah shared anecdotes of what it was like for her watching the Golden Globes as a little girl seeing Sidney Poitier, a Bahamian American actor, being celebrated on television:
"And I'd never seen a black man being celebrated like that. And I've tried many, many, many times to explain what a moment like that means to a little girl — a kid watching from the cheap seats, as my mom came through the door bone-tired from cleaning other people's houses. But all I can do is quote and say that the explanation's in Sidney's performance in "Lilies of the Field": "Amen, amen. Amen, amen."

In 1982, Sidney received the Cecil B. DeMille Award right here at the Golden Globes, and it is not lost on me that at this moment there are some little girls watching as I become the first black woman to be given this same award."
All the feelings! But wait, Oprah isn't done. She hits us with another one.
"What I know for sure is that speaking your truth is the most powerful tool we all have. And I'm especially proud and inspired by all the women who have felt strong enough and empowered enough to speak up and share their personal stories."
What everyone can take home from Oprah's speech is this: we need to both listen, and speak up.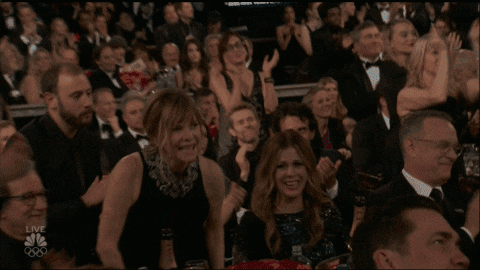 Rathika Sheila is just peachy, and she doesn't want a fiancé, she just wants to be Beyoncé.